Springtime Breathwork & Movement Journey
April 14, 2019
@
2:30 pm
–
5:30 pm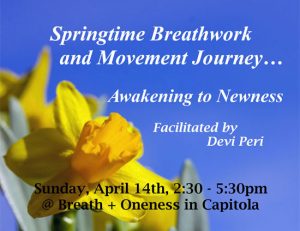 Springtime often inspires a renewed sense of aliveness, newness and possibility! Through the profound practices of Clarity Breathwork and embodied movement, let's awaken to greater possibilities for ourselves and the planet.
Guided by Devi Peri, Clarity Breathwork facilitator and embodied movement coach, we will begin with body-centered meditation, movement (with and without music) and group sharing, followed by Clarity Breathwork. This breathwork practice is done lying on your back, breathing in and out of the mouth for about one hour with gentle guidance.
With this conscious, full and connected breathing, we are more easily able to awaken to new ways of seeing and releasing… and become more open to transformation. This inner change brings about shifts in our outer lives for the better.
Cushions and blankets are provided, but feel free to bring your own yoga mat. Remember to bring a water bottle and wear loose layered clothing.
Location: Breath + Oneness, Capitola
Please arrive between 2:15 – 2:25 so we can begin promptly at 2:30.
$30 prepay by April 13 @ www.deviperi.com / $40 on April 14-cash or card.
For more info about Devi Peri and Clarity Breathwork:
www.deviperi.com
~(415) 209-4499 Learn more about
Clarity Breathwork