Body Tales® Inspired Open Intro Class
March 3, 2019 @ 2:30 pm

-

6:00 pm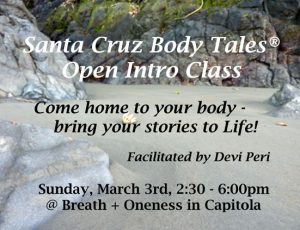 "BodyTales® is a creative and healing practice that integrates movement, voice and personal storytelling. This unique form combines elements of dance, theater and expressive arts, and encourages and supports an embodied value system in which the well-being of the Earth is central."  www.bodytales.com
I've been practicing and participating in this rich modality for nearly 16 years with its creator/founder, Olivia Corson.  I had the good fortune last October to participate in an intensive Body Tales Teacher Training and am a Certification Candidate.
On Sunday afternoon, March 3, I hope you can join us to connect with your body, your Creature Self, your Innate Intelligence through intuitive, embodied movement and vocal sounding…with solo connection, paired connection and group connection, integrating organic movement and voice…and adding personal storytelling (with many or very few words) to your movement once you've warmed up your creative voice and your connection to Body, Self and others.
In this form there is really no right or wrong way to move, make sounds or tell your stories… it is a way to express yourself creatively and be seen and heard without the pressure of having to "do it right," which is why I became interested so many years ago.  So I emphasize that No dance or theater experience is needed…. and we will establish agreements of confidentiality so that we can feel safe and supported in sharing our personal stories.
Please join us for this open introductory session, and if you are drawn to it, you may want to join the the committed 4-class series that will follow.  This series will be a closed group where we can build a safe and supportive community for deepening our sharing of our personal stories. If you feel curious or intrigued, attending on March 3 is your opportunity to come try it and see if you'd like to join the closed class series.
Remember to bring a water bottle and a journal/pen.  Loose layered clothing recommended.  Please arrive between 2:20 – 2:25 so we can begin at 2:30.
$35 if prepaid by March 2 / $45 at the door-cash or card.