New Year Body Tales® Inspired 4-Class Series
Come Home to your Body ~ Bring your Stories to Life!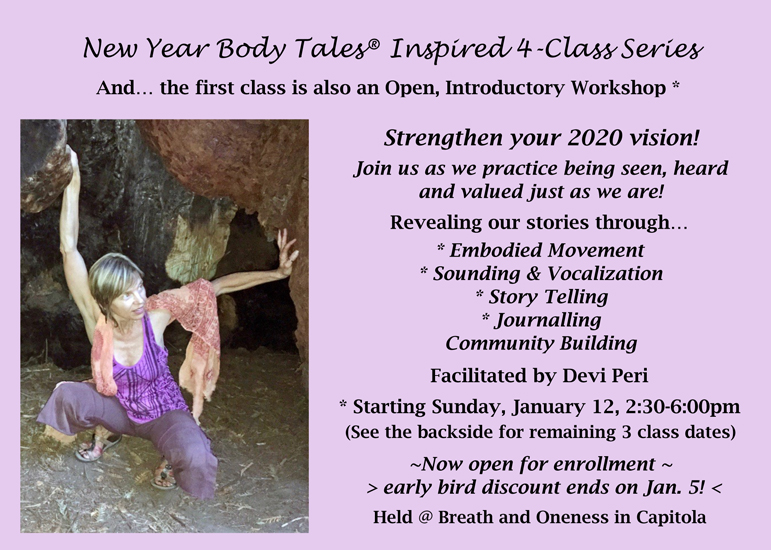 All Genders Welcome!
Body Tales® is a creative and healing practice that integrates movement, voice and personal storytelling. This unique form that combines elements of dance, theater and expressive arts, also encourages and supports an embodied value system in which the well-being of the Earth is central.  
Join us as we practice being seen, heard and valued just as we are! 
Class Schedule:
Class #1 January 12, 2020 from 2:30-6pm ~ ( also an Open Intro class, all welcome! )*
Class #2 January 26 from 2:30-5:30pm
Class #3 February 2 from 2:30-5:30pm
Class #4 February 16 from 2:30-5:30pm
*Cost for #1 Open Intro Class only:
 Pre-pay by January 11 / $35
$45 on January 12
For 4-Class Committed Series:
Early Bird (by January 5) $135
Regular (by January 11) $160
At the door (January 12) $175

Please bring a water bottle and a journal/pen. Loose layered clothing recommended.
If you have any questions or difficulties signing up, contact Devi @ 415-209-4499.
Location: Breath and Oneness in Capitola_ www.breathandoneness.com
For more info about Body Tales®_  www.bodytales.com