Summer Breathwork and Movement Journey
July 14, 2019
@
2:30 pm
–
5:30 pm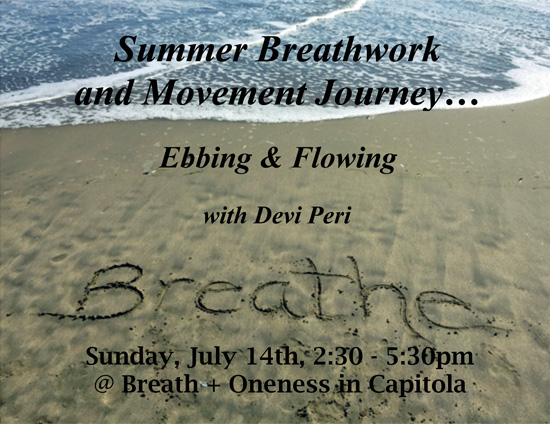 Ebbing and Flowing
Everything ebbs and flows. All of Nature is cyclical. The moon and the tides, as well as our our lives, all ebb and flow. Together we will journey into, explore and experience our own personal world of ebbs and flows through movement and stillness; solo time and interaction; breathing in and out, fully and consciously.
Come experience the transformative, healing power of embodied movement and Clarity Breathwork! This work can help us release old trapped energies, patterns and negativities that keep us from trusting our own natural ebbs and flows. Clarity Breathwork is done lying down, breathing through an open mouth with gentle guidance.
We provide yoga mats, cushions, and blankets. Please bring a water bottle and a journal/pen. Loose layered clothing recommended. Please arrive 2:20-25 so we can begin at 2:30.
$35 if paid by July 13 at deviperi.com / $45 @ the door on July 14.

For additional info: Devi@ (415) 209-4499
To learn more about Clarity Breathwork: www.ClarityBreathwork.com