Breathing into Wholeness – Fall Equinox
September 20
@
8:00 am
–
8:45 pm
Breathing into Wholeness
FREE Online group session, September 20, 7-8:45pm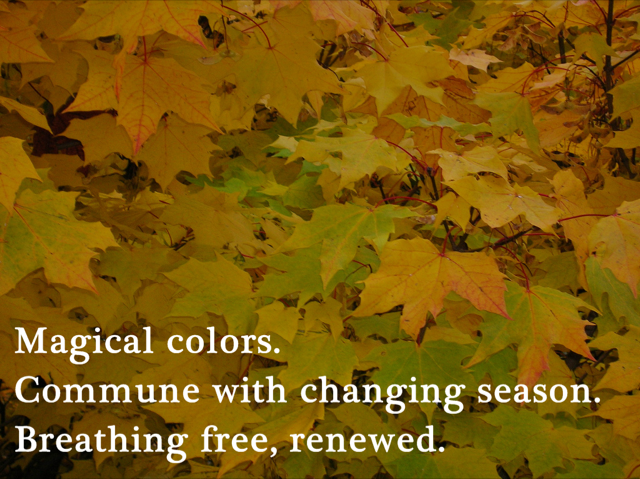 *Haiku by Geraldine Helen Hartman
Join us in honoring the Fall Equinox, saying goodbye to summer and welcome to fall.
We'll have the opportunity in our pre-breathwork guided meditation to explore what growth we're harvesting and appreciating in ourselves/our lives…and what needs to be let go now in order to make space.
We'll explore in what ways we might need to make adjustments to create more balance in our inner and outer world, as we look at what happens in the natural world during this transitional time of the year.
And we'll take this exploration straight into our Breathwork session… 50 minutes of intentional deep and connected breathing with a specially-designed soundscape to accompany you on your journey into expanded, heart-centered awareness.
It's such a nourishing way to say goodbye to the summer and welcome to the Fall! I hope you'll join us!
If you've never joined in on one of these online group sessions with me before…no worries! This is the perfect time to try it out, and I'll send you a written piece to help you prepare.
We'll meet on Wednesday, September 20, from 7pm-8:45ish (PST). You can reach me by email at devi@deviperi.com to let me know you'd like to join us…and I'll send you the Zoom link and see you there!
It's very helpful if you can RSVP as soon as possible, and 5pm on September 20 is the latest I can count you in.
Don't miss this opportunity to honor this seasonal transition with a free session of Breathing into Wholeness!